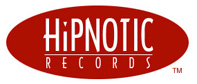 __________

WHAT IS HiP'?
NEWS
ARTISTS & RECORDINGS
HAPPENINGS
GEAR
LINKS
SHOP
CONTACT

__________


HiPNOTIC RECORDS is the subject of a Label Profile in the July-August 2002 issue of the All About Jazz -- Philadelphia newspaper. Click here to visit the AAJ-Philadelphia web site where you can download the issue, which also features an AAJ review of Matthew Parrish/Circles.


In May 2002, HiPNOTIC RECORDS the released Circles, the debut recording by bassist-composer Matthew Parrish. Click here for information, Real Audio clips, and reviews.


HiPNOTIC RECORDS Prez Tony Haywood was profiled in the February 2-8, 2001 edition of the Washington City Paper. Click here to read the article.


On January 16 & 23, respectively, The Onus and Seed kicked off 2001 in Washington, DC, with back-to-back Tuesday evening performances at DC's premier jazz supper club, Blues Alley.


On December 29 & 30, 2000, SEED brought the celebration of its debut record to New York, with a CD Release Party held at the cozy Up Over Jazz Cafe in Brooklyn.


Bassist Matthew Parrish's debut recording as a leader, tentatively entitled "Circles", is due for release on HiPNOTIC in November 2001. Recorded September 25 & 26, 2000, the record finds Matthew leading a quartet that features Joel Frahm on tenor saxophone, Vincent Bourgeyx on piano, and Steve Hass on drums.

, the dynamic new band co-led by pianist Orrin Evans, bassist Mike Boone, drummer Rodney Green and vocalist DAWN celebrated the release of their self-titled debut CD on HiPNOTIC and IMANI Records with a CD Release Party at Philadelphia's Zanzibar Blue on Sunday, November 5th. Joined by special guests, vibraphonist Stefon Harris and saxophonist Ralph Bowen, the band performed tunes from the new CD for an audience that included organist Shirley Scott and other Philadelphia jazz icons. "SEED" is now available exclusively in the HiPNOTIC Record Shop.


As of November 22, 2000, customers can now buy music "direct" from HiPNOTIC.com, in the new HiPNOTIC RECORDS "Record Shop"! Three titles -- "SEED", "Reoccurring Dream" and "The Onus" -- are currently available at "gig" prices, via CDStreet.com.


On October 5, 2000, The Onus performed for President Bill Clinton, Congressman Charles Rangel (D-NY) and other distinguished guests at a fundraiser for Rangel's leadership PAC. Hosted by Robert DeNiro's Tribeca Films at The Supper Club in Manhattan, the event featured actor Kevin Spacey as Master of Ceremonies and remarks by the President, Congressman Rangel and others. Angela Stribling, vocalist and host of the BET on Jazz television program JazzScenes, also made a cameo, performing two tunes with The Onus.


In June 2000, HiPNOTIC RECORDS issued its inaugural release, Reoccurring Dream, by The Onus, a dynamic quintet directed by Philadelphia-born, Baltimore-based clarinetist Darryl Harper. The occasion was marked with CD Release/Label Launch Parties at Mangos in Washington, DC, and The Ground Floor in Baltimore.


On May 25 & 26, 2000, pianist Orrin Evans, bassist Michael Boone, drummer Rodney Green and vocalist DAWN teamed up as Seed for a session that features special guest appearances by trumpeter Duane Eubanks and saxophonists Gary Bartz, Ralph Bowen, Branford Marsalis and Jaleel Shaw. The result, to be released jointly on HiPNOTIC RECORDS and Evans' Imani Records in Fall 2000, introduces several new compositions by Evans and includes a sultry cover of the Isley Brothers' soul classic "Hello, it's me". Click here to get HiP!